One of my very favorite desserts is, Apple Pie. When I was a little girl, we lived on a school property for a few months, as my father was the new school principal. Everyday, a huge bakery truck delivered bread to the school. In those days, children were given free meals at school.
My mother would go to the truck and purchase cakes for my brother and I,(we were too young to attend school.) One of those cakes was, apple pie, in a small pie shaped carton. I loved the sweet and somewhat tangy flavor of the apples, encased in, melt in the mouth pastry.
Growing up, I continued to purchase those little apple pies. At restaurants, most often, I would choose apple pie with ice cream or whipped cream, for dessert. So my love of apple pie is how I came to learn to make apple pie. I think the kind I make, bears a close resemblance to the apple pies of my childhood days, and a lot better than some I have tasted at several restaurants.
Here is my recipe for, Shortbread Apple Pie.
Ingredients for Shortbread Pastry
250g./2 sticks soft butter
4 tblsps.icing sugar/confectioners sugar
2 tblsps. maizena/cornstarch
2 cups flour
a pinch of salt
Method for Pastry
Measure 2, level cups of flour. Add other dry ingredients. Sift together
Rub in butter to make a soft dough
Remove 1/3 of dough and keep in fridge in cold section. If baking right away, keep in freezer
Use a 9" inch baking dish. Use the butter wrapper to wipe the baking dish, (using up the last bits of butter)
Gently spread dough evenly around the base & sides
Keep in fridge
Ingredients for Apple Filling
4 medium sized Granny Smith Apples
1/3 cup soft brown sugar
½ tsp. powdered clove
½ tsp. all spice
1 tblsp. cornflour/maizena
Making the Apple Filling
Wash apples. Peel and core. Then chop apples about 1-2 inch sizes. Should yield about 6 full cups
Add apples to a microwave proof dish and combine with sugar. Mix
Cover with clingwrap and microwave on high for 6 minutes at 2 minute intervals
The apples should be soft. If there is liquid in the dish, add the cornflour to thicken the mixture
Putting it all Together
Bring the pie dish out of the fridge.
Apply apple mixture evely to pastry base
Now grate the dough the was kept in the fridge/freezer on the apple mix
Put in a hot oven, 400°F, for 10 minutes
Lower temperature to 375°F.
Bake for another 20 minutes or until the top browns
Remove from oven. When cool sprinkle some icing sugar/confectioners sugar on the top
slice and serve. Top with whipped cream, ice-cream or enjoy it just plain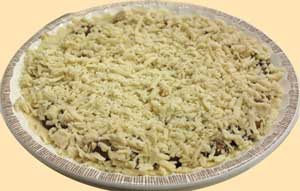 The dough all ready for the oven. No, that is not cheese, just grated pastry dough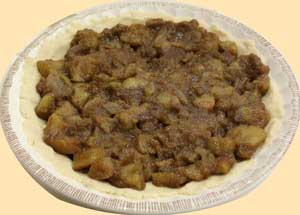 The spiced, microwaved apple mix fills the pastry base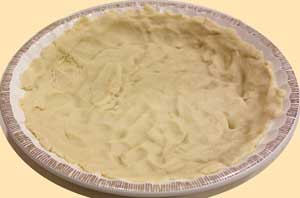 Dough being shaped to fit the pastry dish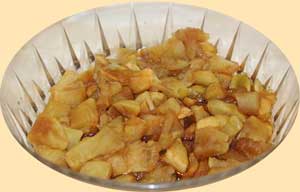 Mix of microwaved apples and brown sugar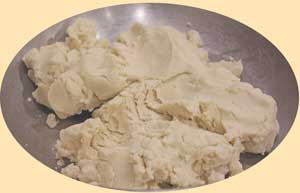 Shortbread Pastry Dough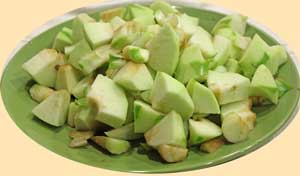 Fresh, Peeled, Chopped, Cored Apples
There are many ways to make this delicious dessert. Some add the apples directly into the pastry, some do not peel the apples, use different pastry, like puff pastry and so forth. I have tried other versions and will publish some of those as well.
Those on special diets should substitute ingredients that comply with a particular health condition. Please note that icing sugar, as we know it in South Africa, is the same product as Confectioners Powdered Sugar in the USA.
If you would like to contribute a recipe,or have any questions/comments, email me, Nirmala, at


I will be happy to help in any way I can. The site will be regularly updated with tasty recipes, hints and tips. You will find my contact information at Contact