The Bundt Chocolate Cake is exactly the same recipe as the Chocolate Cake Recipe. I was eager to try my Bundt pan and experimented with that recipe.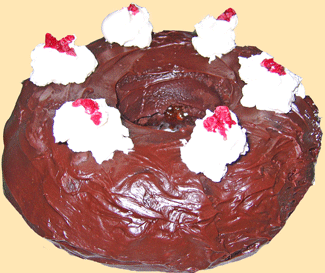 Bundt Chocolate Cake
I am pleased with the results. The only difference is that it is not baked in 2 pans, but in one Bundt pan, just for some variation. However since the batter is a larger amount in one pan, do note that the cooking time is slightly longer. Bake the cake for 20-30 minutes at 400°
I have included the same recipe for your convenience & have called it Bundt Chocolate Cake. The pictures illustrate the steps involved.
Those on special diets should substitute ingredients that comply with a particular health condition.
If you would like to contribute a recipe for publishing or have any questions at all, email me, Nirmala, at

.
I will be happy to help in any way I can. The site will be regularly updated with tasty recipes and hints and tips. You will find my contact information at Contact