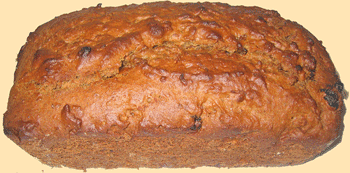 A Carrot Cake Loaf
I love carrot cake, but wanted to create a delicious egg-less carrot cake. I experimented with several regular carrot cake recipes by substituting the eggs. I also tried other egg-less versions with mediocre results. All these trials were not good for my waistline, I have to admit!!
Well, I am now very happy with a vegan version that I created. The previous recipes did help in identifying the ingredients that should be used.
Pravisha Ramu, a reader of this site, also offered me a carrot cake recipe used by the Hare Krishna Movement. It was a good egg-less recipe, but some of the ingredients, like a cup of ghee, were high in cholesterol. The recipe for frosting was supplied by Pravisha as well.
After baking, you have the option to frost the cake. I prefer it sliced, with a spread of vegan butter. Use regular butter if you prefer. Here is the recipe for a simply delicious Carrot Cake. Please note that the loaf version takes almost an hour to bake. Baking it in a wider container halves the cooking time. The ground flax seeds mixed with water is an egg subsitute. The Xanthan Gum, will help to bake a firm loaf.
INGREDIENTS
½ cup wholewheat flour
1½cups all purpose flour
1 tsp. baking soda/bicarbornate soda
1 tsp. baking powder
½ tsp. salt
2 tsps. Xanthan gum
1 teaspoon mixed spice
1½ cups grated carrots, about 3 medium sized carrots
1 cup brown sugar
¾cup apple sauce
2 tblsps. vinegar
½ cup canola oil
3 tblsps. warm water
1 tblsps. ground flaxseed
¼ cup raisins
½cup finely chopped walnuts,(optional)
About 3-4 tblsps. water, only if the dought seems dry. Do not use all at once
METHOD
Wash and scrape outer layer of carrots. Then grate
Sift the first 7 dry ingredients
Mix apple sauce, sugar, oil, & vinegar
,
Mix 3 tbslps warm water with ground flax seeds. It will thicken to make a gel like consistency
Add carrots & raisins. Mix
Fold in dry ingredients & stir all ingredients together
Blend until a thick consistency is achieved. If the dough appears dry, add water a tablespoon at a time
Heat oven at 375°
Pour into a greased and floured loaf container. Place in oven
After 30 minutes or half time, reduce heat to 350° and bake for another 20-30 minutes
Test with a knife or skewer in the very center of the cake
If it comes clean it is done
When cool slice. Serve with butter or add frosting/icing. See recipe that follows
Cream Cheese Frosting
500 g icing sugar/powdered sugar
125 g butter
240 g cream cheese
1 tsp vanilla essence
½cup roughly crushed pecan nuts
Method:
Ensure that the cream cheese and butter are at room temperature
Blend together thoroughly. Add the sifted icing sugar and mix.
Stir in vanilla essence. Spread on cake when cool. Decorate with roughly crushed pecan nuts
If you prefer a vegan version of the frosting, please substitute the butter and cream cheese for vegan versions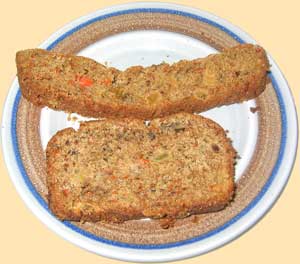 Slices of Carrot Cake from Loaf and Rectangle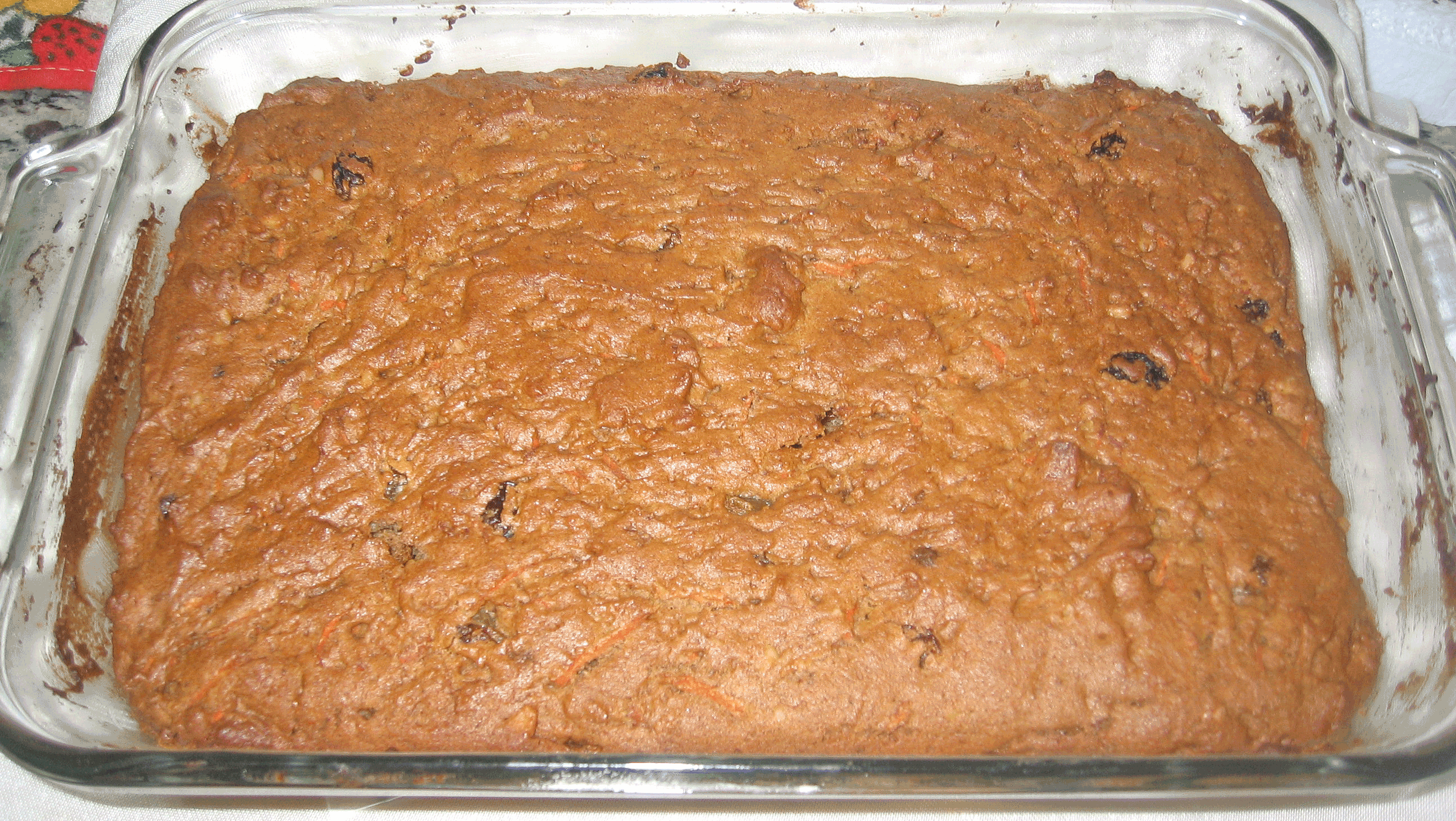 Rectangle Carrot Cake, cooks much quicker than the loaf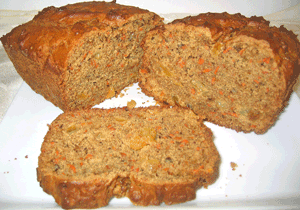 Carrot Loaf Halved & Sliced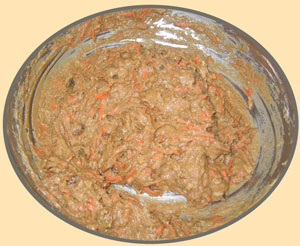 All the ingredients being mixed
Flours and Wet Ingredients about to be mixed
Those on special diets should substitute ingredients that comply with a particular health condition.
If you would like to contribute a recipe for publishing or have any questions at all, email me, Nirmala, at

.
I will be happy to help in any way I can. The site will be regularly updated with tasty recipes and hints and tips. You will find my contact information at Contact