The recipe for non-dairy, gluten free cream, comes from Amber Barrett, a delightful young lady. Amber is a nanny to, two, 1 year old boys, one of whom is my grandson.
She is often described as the " the baby whisperer", as she has a knack of soothing & comforting fussy & irritable children.
She is a Masters student, in the field of, Child Development. Her love of children steered her direction of study as she believes it will enhance her care of children. Another source of joy to her, is her dog, Zoe. She loves to walk him and takes him on outings whenever possible.
Amber also enjoys cooking and often shares her delicious, pies, cookies and muffins. I was so impressed with her recipe for Vegan Cream. It was smooth and delicious. I would not have known that it was made with coconut milk. Amber kindly shared her recipe for gluten free, vegan cream. One can of coconut cream will frost a dozen cupcakes.
Here is the recipe.
INGREDIENTS
1 can coconut milk, 14g. fat content*
Vanilla extract to taste
Agave or honey to taste
METHOD
Place coconut milk upside down in fridge 24 hours or longer, before you want to use it
After 24 hours, while can is still upside down, open it
you will see a cloudy watery substance. This is coconut water
Drink it or use it in a smoothie, or add it your cooking
Once you have drained it off, you will see the coconut milk, which will be very thick. Put this in a mixing bowl
With a hand beater, begin to whip the coconut milk
After about 3 minutes, add in the vanilla extract & agave or honey until it is as sweet as you want it
You may choose not to sweeten or flavor it
Continue beating until it is the consistency that you want. It can take up to 5 minutes or more.
Use to frost cupcakes, cakes, or top other desserts or soups
It does not taste like coconut at all; its very fresh and light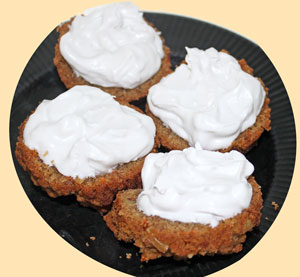 Carrot Muffins Topped with Vegan Coconut Cream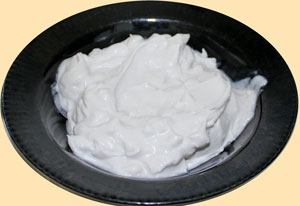 Coconut Milk/Cream Removed from Can

Bowls with water from can, and the remaining coconut milk with the consistency of cream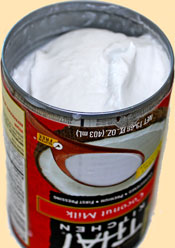 Can of Coconut Milk with water removed
* Please note that this recipe will not work with lite coconut milk or coconut milk that has less than 14g of fat. I first used a can that contained 7g.of fat and was unable to cream it. On my second attempt, I used coconut milk with a fat content of 14 grams. It worked beautifully. Any brand of coconut milk should work, as long as the fat content of the coconut milk is at least 14g. of fat.
I followed Amber's recipe and was delighted with the results from the can that contained 14g. of fat. In fact, I did not whip the cream at all. It was already a mass of thick white, soft cream with a very good consistency. I just separated the water and cream. I prefer unsweetened cream, so I just applied the cream to some carrot muffins that I had made. They were delicious.
Those on special diets should consider the fat quantity of coconut milk, before use. Note: this cream is also gluten free. For more variety, you may consider adding a few drops of color & blending it into the cream. Add sprinkles or pieces of fruit, like you would on regular cream.
If you would like to contribute a recipe,or have any questions/comments, email me, Nirmala, at


I will be happy to help in any way I can. The site will be regularly updated with tasty recipes and hints and tips. You will find my contact information at Contact