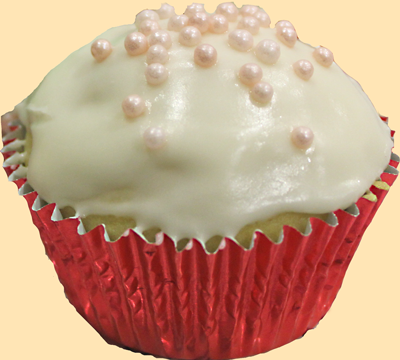 A Cupcake with Frosting and Sprinkles, ready to eat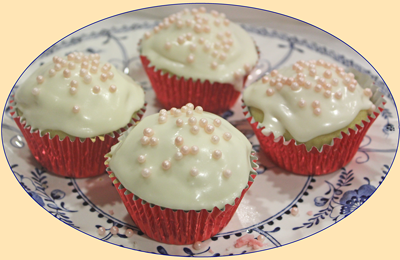 A Batch of Cupcakes with Frosting and Sprinkles. Decorate any way you like, with cream or cream cheese frosting or just sandwich with butter or jam
This cupcake recipe has no eggs or dairy. It has been adapted from a recipe for Vegan Golden Cup Cakes. The recipes asks for soy milk, but if you prefer regular milk, it should still work well. A viewer mentioned that she had used evaporated milk and she was happy with the cupcakes that she had made.
I used almond milk, but you may choose any type of non-dairy milk or regular milk.
Here is the recipe.
INGREDIENTS
Dry Ingredients
1 ¼cups all purpose flour
¾ tsp. baking powder
½ tsp. bicarbonate soda/baking soda
2 tblsp. corn starch/maizena
¼ tsp. salt
Wet Ingredients
½ cup brown sugar
1/3 cup canola oil
1 cup almond milk or milk of your choice
1 tsp. Apple Cider vinegar
2 teaspoons vanilla extract
METHOD
Sift all the dry ingredients and keep aside
Warm the milk for 1 minute in the microwave, then add cider vinegar. Mix and set aside while it curdles
You may use a mixer or just whisk, sugar and oil by hand in a bowl, for 2 minutes
Now add milk, vanilla extract, and dry ingredients. Mix well
Heat oven to 180°C. or 350°F
Place cup cake liners in a muffin pan. Fill with mix about 2/3 of the way
Bake for 15-20 minutes
The cakes should have risen and turned a light golden color. Gently insert a knife in cupcake to test if baking is complete. If knife is clean, remove cupcakes from oven
Let it cool
You may eat it, as is, or make frosting, use fresh cream, or add jam. There are so many options to decorate

Icing/Frosting
Ingredients
1 cup icing sugar/powdered sugar
1 tblsp vegan or regular butter
½ tsp vanilla essence
Any kind of toppings/sprinkles, (optional)
Between 1-2 tsps. milk
Food color, (optional)
Method:
With butter at room temperature, blend with icing sugar
Stir in vanilla essence and a few drops of milk at at time until you get a smooth consistency
If you want different colors of icing, separate the icing at this stage and add just a small drop of food color. Mix thoroughly or just a bit to have a marble effect
When cup cakes are cool, apply icing. Decorate with sprinkles or toppings of your choice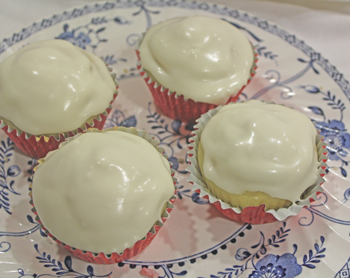 Cupcakes with frosting/icing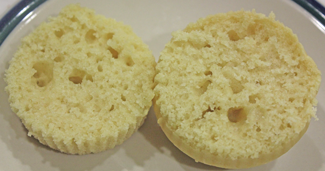 Cupcake sliced to show the baked texture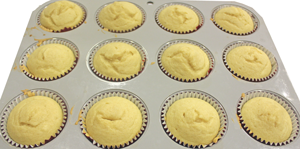 Cup cakes baked and just out of the oven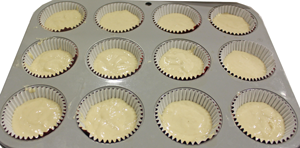 Cupcake mix in cupcake liner, ready to be baked
Wet and Dry Ingredients blended to create the cupcake mix
You may choose to use cream cheese topping or whipped cream, regular or vegan version. You may also add a topping of jam before adding the icing. Have fun with your cup cakes.
If you would like to contribute a recipe,or have any questions/comments, email me, Nirmala, at


I will be happy to help in any way I can. The site will be regularly updated with tasty recipes and hints and tips. You will find my contact information at Contact