Trifle is a popular, much loved dessert in South Africa. It is simply delicious. It is made with layers of cake custard, jelly, fruit & nuts. Do try it. Here is the vegetarian version of trifle. The cake is egg-less and the jelly does not contain gelatin which is a meat product.
I used kiwi fruit to top this trifle. However be aware that fruits containing acid, tend to affect the flavor of the cream. If it will be eaten right away it is fine to use such fruit otherwise use, berries, peaches or bananas to top this dessert.
Here is the recipe for Trifle
INGREDIENTS
2 cups milk
2 tblsp.custard powder
1 packet china grass jelly (I used strawberry flavor)
sliced banana bread or any cake to layer the bottom of a 9"x12" container
2 tblsp. sugar
2 cupfuls of fruit of your choice
2 cups whipping cream/fresh cream
a handful or sliced almonds
METHOD
Heat milk in microwave for 2min. (1 min. at a time to ensure it does not boil over)
Add custard powder & stir. Return to microwave & at 10 minute intervals stir contents until it thickens
Add sugar. Lower amount if this is too rich for you. Keep aside & allow to cool
Follow instructions to make jelly. Keep refrigerated
Beat cream either by hand for food processor until thick
Layer container with sliced cake. Add a layer of custard, then jelly and fruit. Top with cream
The last layer of fruit can be added just before serving. Sprinkle with almonds.
Keep leftovers in refrigerator. Enjoy the dessert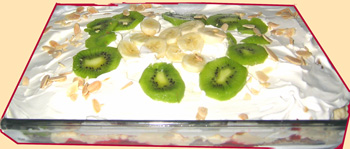 A tray of delicious trifle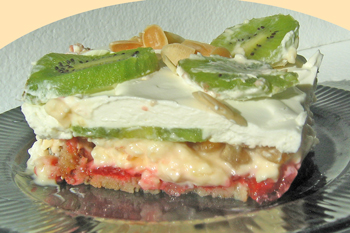 A slice of trifle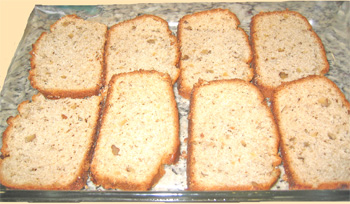 the first stage of trifle, layering banana bread on tray

This trifle has layers of banana and mixed berries. Equally delicious. Follow the same steps as the first trifle
Those on special diets should substitute ingredients that comply with a particular health condition. You will find ingredients like custard powder & vegetarian jelly at Indian grocers or health food stores.
If you have problems accessing these products or have any questions at all, email me, Nirmala, at

.
I will be happy to help in any way I can. The site will be regularly updated with tasty recipes and hints and tips. You will find my contact information at Contact