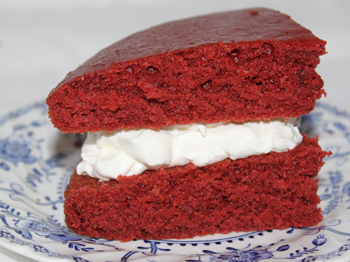 A slice of Delicious Red Velvet Cake with Whipped Cream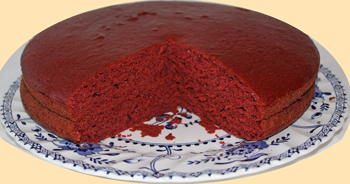 Delicious Red Velvet Cake
This cake is beautiful to look at and so delicious. The great thing about it is that it is made without eggs. If you avoid eating eggs for any reason, this Red Velvet Cake is a welcome and delicious addition to your repertoire.
My sister, Maya, an excellent cook, kindly shared her recipe. I just reduced the amount of sugar and oil from her orginal recipe but the rest of the ingredients are all thanks to Maya.
Here is the recipe.
INGREDIENTS
Dry Ingredients
2 cups all purpose flour
1 tsp. baking powder
1 tsp. bicarbonate soda/baking soda
50 ml cocoa powder
1 tsp. salt
1 tsp. instant coffee powder
½tsp powdered red food color or 1 tablespoon liquid food color
Wet Ingredients
3/4 cup brown sugar
3/4 cup canola oil
1 cup butter milk
2 tsps. balsamic vinegar
3 tablespoons white vinegar
½ cup hot water, for black coffee, add last
2 teaspoons vanilla essence
METHOD
Sift all the dry ingredients and keep aside
Pulse sugar and oil in food processor. To this add the vinegars and pulse
Now add food color, essence and butter milk. Pulse
Heat oven to 180°C. or 350°F
Apply oil or a small amount of butter to two 9" round baking tins
Heat ½ cup hot water, and blend with 1 tsp. instant coffee powder. Pulse
Transfer wet ingredients from food processer into dry ingredients container
Mix well, ensuring that the cocoa powder is well incorporated into mix
Pour equal amount of mixture into prepared containers and place in oven
Bake for 20-30 minutes. Test with a skewer or knife. If it comes clean it is baked
Remove from oven. When cool, you may sandwich it with cream, jam, cream cheese frosting or fresh whipped cream and top it with any of your favorite toppings

Cream Cheese Frosting
INGREDIENTS
500 g icing sugar/powdered sugar
125 g butter
240 g cream cheese
1 tsp vanilla essence
½cup roughly crushed pecan nuts, (optional)
Method:
Ensure that the cream cheese and butter are at room temperature
Blend together thoroughly. Add the sifted icing sugar and mix
Stir in vanilla essence. Spread on cake when cool. Decorate with roughly crushed pecan nuts, (optional) or fresh cherries or other fruit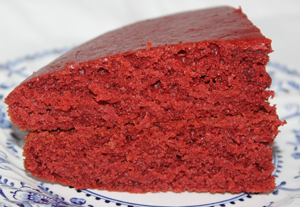 Cakes slices beautifully. Decorate any way you like, cream or cream cheese frosting or just sandwich with butter or jam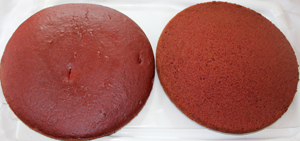 Cakes cooling, notice texture. One cake is bottoms up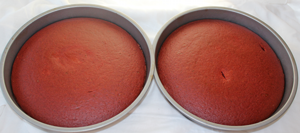 Cakes just out of oven. The right has the imprint of the knife I used to test if baking was done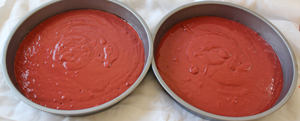 Cake mix in baking pans ready for the oven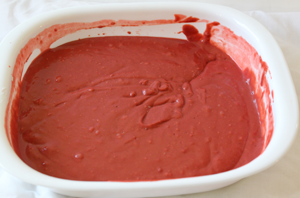 The ingredients take while to be thoroughly mixed. Take care to blend in the cocoa powder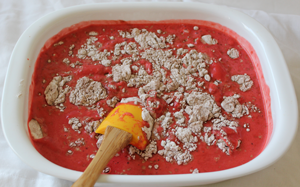 Wet and Dry Ingredients Combined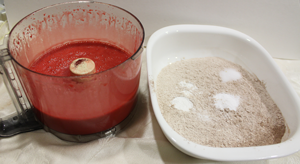 Wet Ingredients in food processor alongside dry ingredients
I did not add a topping to the Red Velvet Cake. I have included a recipe for cream cheese frosting if you wish to add this. The toppings you choose is what will make this cake unique to you. I have used round baking containers, but of course, you may choose the shape that you like.
You may use either the liquid or powdered forms of red food color, but the amounts that you use will differ. Use just ½ tsp. powdered red food color or 1 tablespoon of liquid food color.
For other recipes by Maya Singh, check out, Easy, Delicious Burfi and
Quick, Easy, Delicious Penda
If you would like to contribute a recipe,or have any questions/comments, email me, Nirmala, at


I will be happy to help in any way I can. The site will be regularly updated with tasty recipes and hints and tips. You will find my contact information at Contact