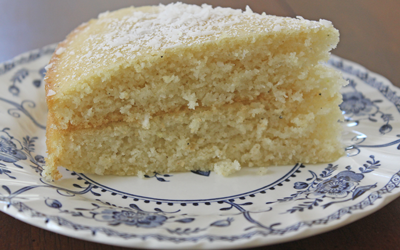 A Slice of Vegan Sooji/Semolina Cake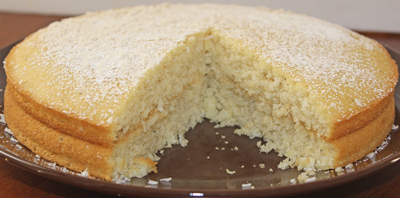 The Baked Semolina/Sooji cake with one portion sliced
Sooji or Semolina is also known as Farina and Cream of Wheat. It is a very useful wheat product that is used in a variety of recipes, both sweet and savory.
I had been experimenting with a Sooji cake a few weeks ago. Co-incidentally I received a request for a Sooji cake from a viewer of this website. Well, that spurred me on to work out a recipe. After a few trials I think this recipe works.
The cake is vegan, no dairy product is used. The cake is also egg-less. I have used coconut milk, the canned variety. In case you are not sure what that looks like, here is a link where you can view the, Can of Coconut Milk
Here is the recipe for Sooji/Semolina Cake.
INGREDIENTS
Dry Ingredients
1 cup all purpose flour
1 cup sooji/semolina
3 tblsps.maizena/cornflour
¼ cup coconut powder
1 tsp. bicarbonate of soda/baking soda
3 tsp./15 ml. baking powder
½ -1 tsp elachi/cardomom powder, depending on how much you like the elachi flavor
½ tsp nutmeg powder
½ tsp salt
2 tsps. raisins (optional. If you use it slice it into small pieces)
Sprinkling of icing sugar/confectioners sugar
Small amount of dessicated coconut for topping, (optional)
Wet Ingredients
¼ cup sugar
½ cup canola oil
½ cup water
2½ tblsps. vinegar
1 cup coconut milk*
METHOD
Mix the first 9 ingredients together & whisk to blend. Keep aside
Mix all the wet ingredients together, using a whisk as well
If using raisins, add at this stage
Now mix the wet and dry ingredients together, taking care to mix thoroughly
The mix should have the consistency of thick batter
Heat oven to 180°C or 350°F. Apply a little oil to two 9" diameter baking dishes
Pour mixture evenly in both containers. Smooth the tops with a flat spoon of spatuala
When oven has reached the required temperature, place containers in oven
It should be baked in 15-20 minutes. You may gently insert a knife into cake. If it comes clean the cake should be done
The top may not brown as much as regular cakes. Watching the edge of the cake is good clue to whether it is baked.
It will be a light brown-golden color
Remove from oven and allow to cool.Cover with a cloth to ensure softness of cake
When cool, use a spatula to gently ease off from the edges. Then slip the spatula in the base and loosen
Gently turn over onto plate.
The decoration is entirely to your taste. I simply sprinked icing sugar and dessicated coconut and sandwiched the cakes
Repeat that sprinkling on the top. After a few hours the icing sugar gets absorbed in the cake. So if you want a good appearance, then just dust a little more over the top.
Slice and serve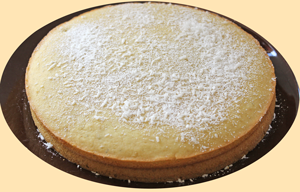 The complete cake just decorated. Sprinkled with icing sugar and dessicated coconut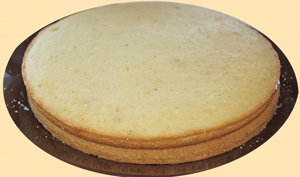 Layers sandwiched together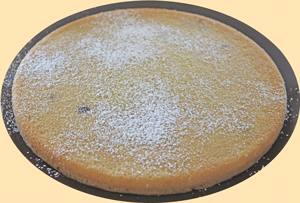 The bottom layer is sprinkled with icing sugar and dessicated coconut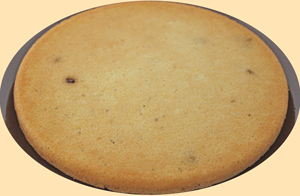 The bottom of the cake. A few raisins are showing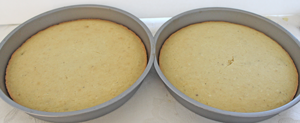 Cakes just out of oven and cooling. Note the edges of the cake are a nice brown color

Cakes in pans ready for the oven
* If you prefer to use regular milk please do so. If you do want to use coconut milk, do not get the light version. Choose the brands that are available in your location but make sure that it has at least 14g. of fat content.
If you are limiting your sugar intake, please substitute the sugar for the product you use to replace sugar.
If you would like to contribute a recipe,or have any questions/comments, email me, Nirmala, at


I will be happy to help in any way I can. The site will be regularly updated with tasty recipes and hints and tips. You will find my contact information at Contact