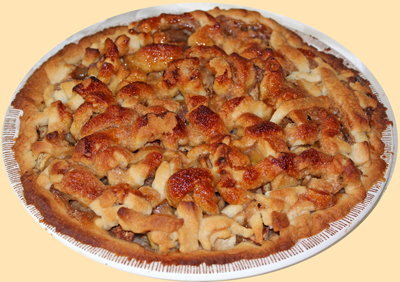 Delicious Lattice Home made Apple Pie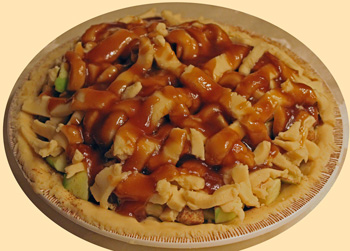 Apple Pie, ready to be baked. Lattice is covered with syrup
Here is another delicious apple pie recipe. The crust is very similar to the previous recipe for Apple Pie. However the filling is made in a different way. I adapted this recipe from one that appeared in the, Contra Costa Marketplace Magazine, November 2008.. That recipe used store bought pastry. You could do that, or try my shortbread pastry that is easy to make as well as delicious.
The first part of the recipe is the making of the pastry and the second is the preparation of the apple pie and syrup
Here is my recipe for the Shortbread Pastry
Ingredients for Shortbread Pastry
375g./3 sticks soft butter
6 tblsps.icing sugar/confectioners sugar
3 tblsps. maizena/cornstarch
3 cups flour
a pinch of salt
Method for Pastry
Measure 3 level cups of flour. Add other dry ingredients. Sift together
Rub in butter to make a soft dough
Remove 1/3 of dough and keep in fridge in cold section. If baking right away, keep in freezer
Use a 9" inch baking dish. Use the butter wrapper to wipe the baking dish, (using up the last bits of butter)
Gently spread the remaining dough evenly around the base & sides
Keep aside in 'fridge
Ingredients for Apple Filling
8 medium sized Granny Smith Apples
3 teaspoons/15ml. flour
¼cup water
1 stick/½ cup butter
½ cup soft brown sugar
½ cup white sugar
½ tsp. powdered clove
½ tsp. all spice
Making the Apple Filling
Wash apples. Peel, core & cut into 1" pieces
Pre-heat to 425°F./ 220 °
Melt butter in a small pot. Stir in flour to form a paste
Add water and sugars and bring to a boil
Reduce temperature and let simmer for a few minutes. Then remove from stove
Putting it all Together
Bring the pie dish out of the fridge.
Mix apple with spices. Fill the apple pie base with apples, mound slightly
Remove pastry that was stored in the fridge or freezer. Dust a bread board with flour and carefully roll pastry until about ¼ thick
Slice in strips and layer on top of apples to form a lattice. If strips are uneven, don't worry about it, you will have enough pastry to cover the apples
You may want to roll pieces that appear thick and just cover apples, even if you are not getting very even placings of pastry
Next gently pour butter and sugar mixture over the crust. Pour slowly so that it does not run off
Bake for 15 minutes at 425°F/200°C, for 15 minutes
Reduce temperature to 350° and bak for 35-45 minutes, until apples are soft. The crust should be a golden color
When cool, slice and serve. Top with whipped cream, ice-cream or enjoy it just plain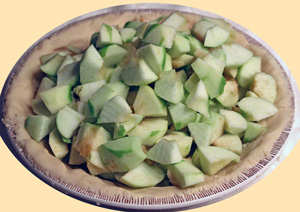 Apples Filled on Pastry Base

Butter, sugar mix and chopped apples, fillings for the pie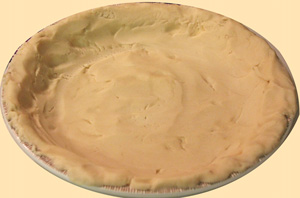 Pastry molded onto to pie plate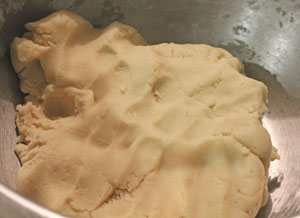 Shortbread Pastry Dough
There are several recipes for apple pie. This recipe is really good. Do try it. If you prefer not to spice the apples, just ignore the steps to use spices.
Those on special diets should substitute ingredients that comply with a particular health condition.
If you would like to contribute a recipe,or have any questions/comments, email me, Nirmala, at

.
I will be happy to help in any way I can. The site will be regularly updated with tasty recipes, hints and tips. You will find my contact information at Contact